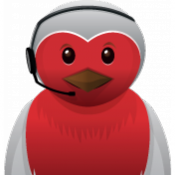 Information
Price: Variabel pris
30 Days free
Category: Customer-service
Release date: 11/15/2012
Developer: ROBIN
ROBIN - E-Commerce Customer Service
Description
Make online shopping equally personal as instore shopping.

Provide fast & personal service to convert questions into orders.

Email management, live chat, proactive chat, smart engagement modeling, co-browsing, videochat, and more.
---
"ROBIN customers increase revenue with 20% by providing fast & personal service".


Why ROBIN
ROBIN is for medium sized and large web stores who want to make a difference with service. We help you 1) manage customer satisfaction efficiently, 2) proactively target shopper questions, 3) convert like a retailer. Personal service = more sales.

How does it work?
With ROBIN you invite shoppers for a chat at exactly the right time and with the right message. All questions via email, live chat and proactive chat come into one central team dashboard. Every conversation is tied to order data. This is how you measure the effect of service on acquisition and retention.

Summary of features

For detailed pricing info please go here.
√ One central customer service dashboard
√ Seamless integration email and live chat
√ Proactive chat & exit popup
√ Smart engagement modeling
√ Automatic eCommerce data integration with SEOshop
√ eCommerce KPI's
√ E-mail forwarding
√ Twitter integration
√ Phone registration
√ Co-browsing
√ Video chat
√ Conversation history
√ Internal chat
√ Intelligent routing & inbox
√ Intelligent suggested answers
√ Customer satisfaction ratings
√ Time & service level management
√ Sentiment analysis
√ Widget text customisation
√ E-mail templates
√ iPhone & iPad apps
√ Real-time notifications
√ Multi-store
√ Multi-brand
√ Multi-language
√ API access
√ Performance reporting
√ Design customisation
√ Dedicated succes manager.

About us as a partner
ROBIN is a technology and consulting company specialized in customer service for eCommerce. We help you sell more through personal service.

Support 
At ROBIN we are all about Personal Service. We love to talk to you and help you become service driven company. Please feel free to shoot over any question you might have. During office hours, our live chat is always on. You can also send us an email, which we'll reply with 2 hours (during office hours) or give us a call. Go to the ROBIN website or ask a question directly form our app.
Images