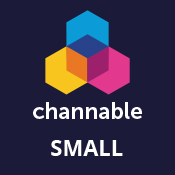 Information
Price: Gratis
14 Days free
Category: Marketing
Release date: 06/02/2014
Developer: Channable
Channable Small
Description
Send your products to any price comparison website, affiliate or marketplace.

Choose from more than 100 UK export channels, e.g. Google shopping, Amazon, Idealo, Argos and many more.

Channable will setting up your feed and if you have any questions, technical support is free.
---
 "Increase the traffic on your website with 15 to 40 percent."
Why Channable Small?
Channable offers you the possibility to list your products on any comparison website, affiliate platform or marketplace you like. Manage up to 3 marketing channels and 5.000 items with one solution. Get more visitors on your webshop and sell your products on marketplaces worldwide.
Generate datafeeds for comparison websites, affiliate platforms and marketplaces
14 days free trial
Choose from more than 1000 channels worldwide
Clear and user-friendly interface
One-time setup
Free support
Daily update of your product information (prices, new products, etc.)
Plenty of possibilities to filter products and to optimize your datafeeds
 
How does it work?
Get started with Channable
1st step: Install the Channable app
There are different versions of the app available. The apps differ depending on the total number of imported items (all languages together) and the features you use.
* APIs: API-Connections with Amazon, Marktplaats.nl and Bol.com (we are also working on eBay)
** Order connection: Automatic import of your orders from the shopping basket from Bol.com and Beslist.nl. Your stock gets updated automatically.
2nd step: Get in touch with Channable
The Channable support team will call you in order to discuss your plans. With their technical background they are able to help you with all your questions.
3rd step: Setup
Get started with the setup of the rules on your own or ask the support team for help. By applying separate rules and filters to any channel, we make sure we deliver the feeds as good as possible to the channels. Do you like to use a channel, which is not implemented in the app yet? Please contact us and we will add the channel asap.
4th step: Display your products on the channels
Your product information gets updated and sent to your export channels daily.
Webinar
Take a look at the Channable webinars.
Further information
With Channable you can pick out of +1000 channels worldwide. For example: Amazon, Awin, Bing, Criteo, Daisycon, eBay, Facebook, Fashionchick, Fruugo, Google AdWords, Google Shopping, idealo, Kelkoo, Polyvore, PriceGrabber, PriceRunner, Shopzilla, Stylight, TradeTracker, and Tweakwise.
Images