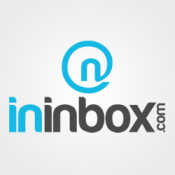 Information
Price: NOK 19,00 / månedlig
30 Days free
Category: Marketing
Release date: 04/01/2014
Developer: INinbox
INinbox - Email Marketing
Description
Email marketing is one of the most profitable ways to increase your business' revenue and build a bond with your customers. People may find your webshop via the Internet, but the fact is that many people will never come back again and never buy from you. Wouldn't it be cool if you could"catch" some of these visitors and send them beautiful email newsletters? You could send them the latest trends, promotions, updates, etc. to really build that connection with you and your brand. With INinbox you can easily create, send, and track these beautiful email newsletters and increase your business' revenue.
What INinbox does?
INinbox gives you one central online dashboard where you can send all your marketing emails. And with every email, INinbox shows you real-time statistics like open rates, click rates, spam rates, and much more. At the same time, our entire email platform is designed to get your emails where they belong, IN the inbox. Since the spam policies of big email platforms like Gmail and Hotmail are getting more and more strict, it might happen that your well-intended marketing emails end up in the spambox. Where other email providers give you little or no feedback, our Inspired Support Team will help you personally to optimize your email to get your emails in the inbox.
Benefits of INinbox:
√ No start-up costs, no installation, and no commitments
√ Send beautiful marketing emails in bulk
√ Create multiple email lists
√ Easily upload your current email subscribers
√ Beautiful email statistics like opens, clicks, bounces, and spam rates
√ Optimized so emails will end up IN the inbox, not in the spam folder
√ Integrate your favorite business apps in just a few clicks
√ Free support
How does this Lightspeed app help you?
This Lightspeed app connects your Lightspeed account with INinbox to easily sync your customers and subscribers to an email list of your choice. This allows you to automatically build powerful relationships
by sending beautiful email newsletters.
IMPORTANT. If you want to sync your existing Lightspeed contacts to INinbox as well you can do so
from within the 3rd Party INtegration Section in your INinbox account here.
This App enables you to sync your new Lightspeed contacts real time to INinbox. It's not for moving
over your current contacts with a mass action.
The INinbox app in Lightspeed helps you:
√ Sync new subscribers, customers AND order details from Lightspeed in real-time to a list of choice
√ Sync extra contact data, like company, gender, country and even custom fields
√ Supports single and double opt-in emails
√ Supports syncing to multiple lists
√ Update existing contacts during syncing (yes/no)
√ Send confirmation email for double opt-in lists (yes/no)
√ Add contacts to your autoresponder cycle (yes/no)
√ Create additional custom fields from within the Lightspeed app
Case Studies:
What does INinbox cost?
Free box: FREE up to 2.000 contacts and 20.000 montly emails
Big Box: $20 up to 5.000 contacts and unlimited mailing
Sky Box: from $39 as much contacts as you need
Watch the installation tutorial:
Images